Santorini is one of the most desirable islands in Greece. This colorful island is a definite head-turner. You've seen this island in magazines, movies, and online. You're finally able to visit this Island by the Aegean Sea. The island is famous for its sublime scenery, panoramic sunsets, and sandy beaches. It's easy to see why so many fly to this mysterious island. First-time visitors may be overwhelmed on where to get started. Everyone's first time should be special.  Secure the best travel Wi-Fi and make your first trip special with this guide to Santorini.
Red Beach
Head over to the south of Santorini to see the infamous Red Beach. Red Beach is located 12 kilometers southwest of Fira. The best way to admire the red beach is to take a sunset cruise which can cost around PHP 9000 per person. You can ask your hotel for details about the tour. Each hotel might have different offerings but most offer a pick up at 3 PM from your hotel to the Catamaran. Once you arrive at the Red Beach, you will be given time to swim, snorkel, or simply relax under the sun. Since it's a sunset cruise, you have the chance to capture one of the most beautiful sunsets in the Aegean Sea. Be prepared with a large capacity memory card and take as many pictures as you can!
Ancient Akrotiri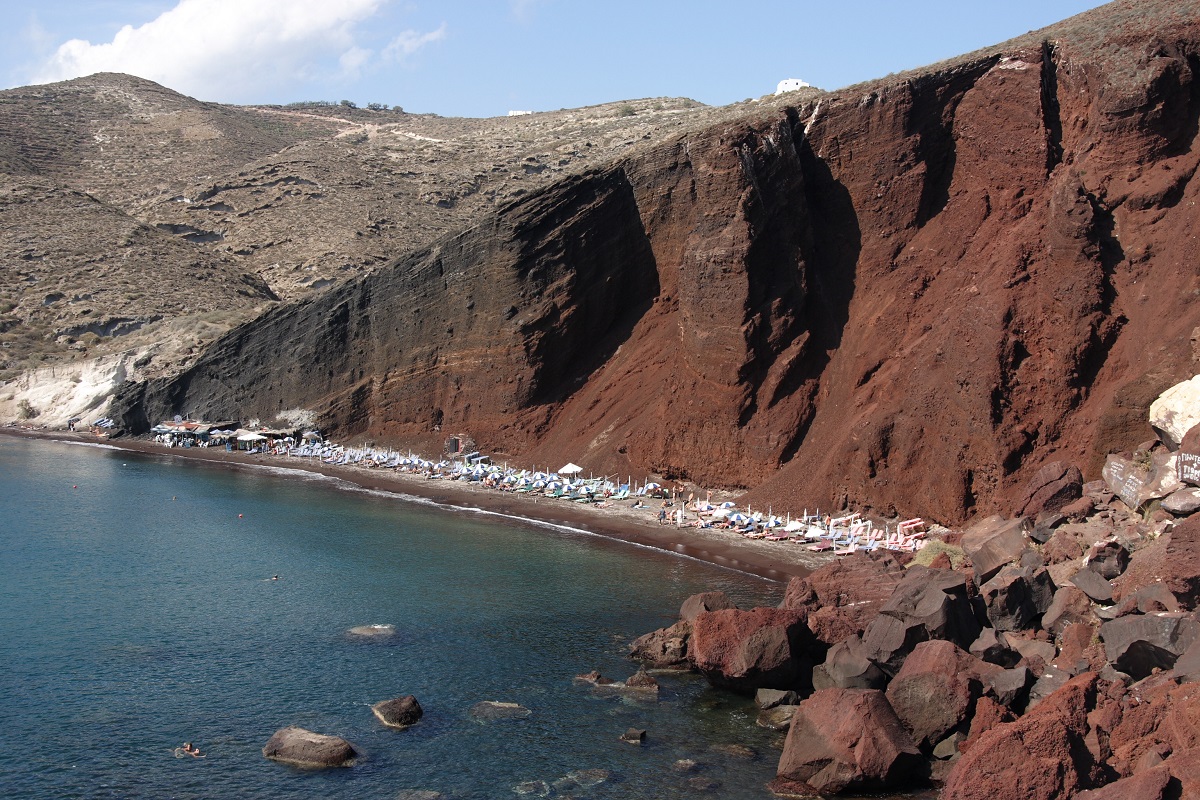 Akrotiri is a bronze-age settlement in Greece. It's one of the most important Minoan urban centers and ports of the Aegean Sea. In ancient times, it allowed Santorini to connect to mainland Greece, Egypt, and Syria. In the 17th century BC, a volcanic eruption caused the ashes to preserve Akrotiri. It preserved the structures of the settlement, making it an exceptional archaeological site. The site today is covered by a bioclimatic roof and walkways so visitors can enjoy the site while still preserving it.
You can drive to Akrotiri easily if you have a rental car. You can also opt for public transportation. Ordinary buses can cost $3 or 2 EURO for one trip to your destination. It's relatively cheap if you decide to go around Akrotiri on your own. There are bus tours that cost around $50, which can cover Akrotiri and the Red Beach if you prefer.
Skaros Rock in Santorini
If you're an active individual, you can try hiking the Skaros Rock of Santorini. The hike is shorter but still offers a challenge to any active hiker. The best part about hiking Skaros is that you can view both sides of the island. Take a bus heading to the church of Agios Georgics and remember to stop at Imerovigli. This costs around 2 EURO from Fira. Once you get to the church, you'll find a path that leads to Skaros.
The hike takes around one hour to complete. Remember to bring the right hiking shoes, sunscreen, water, and a hat when hiking. Once you get to Skaros, enjoy the panoramic view of the Island. Since this hike is a bit more challenging, not many people are on Skaros. This gives you the opportunity to get a lot of unique pictures on site.
Oia Village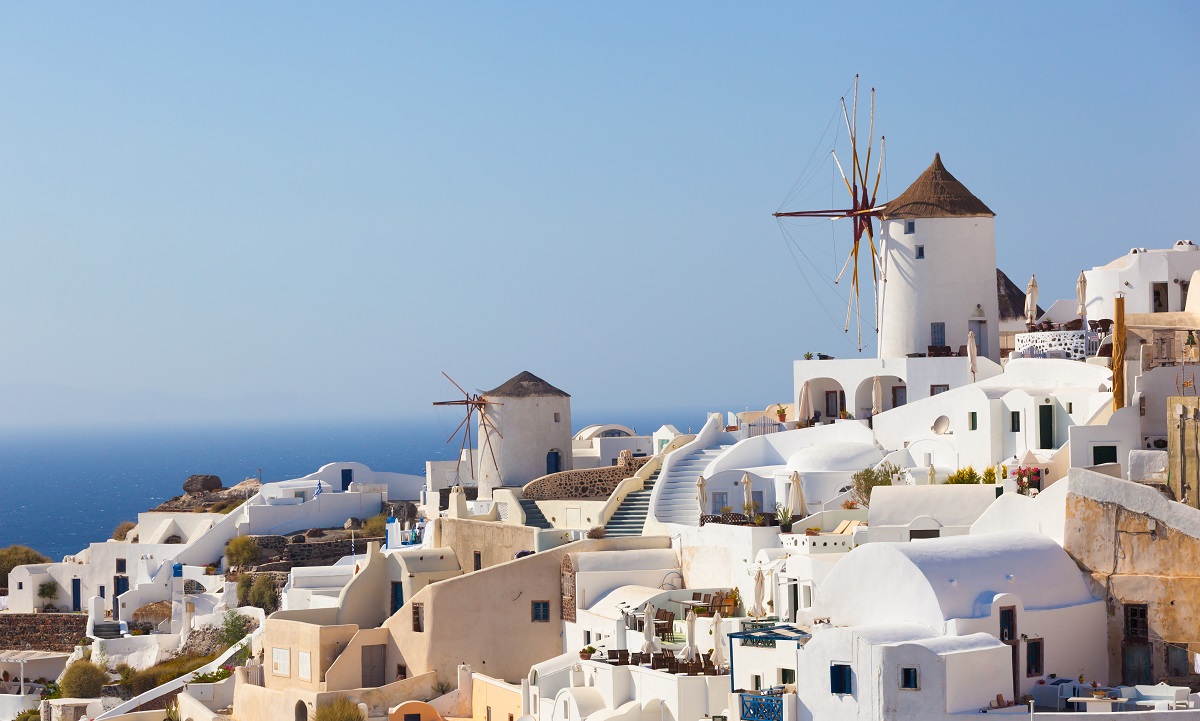 Oia is the most picturesque village in Santorini. It provides an excellent view of Santorini's famous sunsets. The bus towards Oia costs 2 EURO from any point in Santorini. Once you get there, you can't miss the picturesque sunset. All tourists and locals gather in the streets or rooftops to enjoy the sunset together. When the sun begins to set, the crowd claps in unison, thus celebrating the end of the day. The village is still full of life even after the sun sets, with an array of bars, cafes, and restaurants you can enjoy.
For sightseeing, you can visit The Naval Maritime Museum to learn more about the naval history of the island. The ticket for the museum costs 5 EURO per person. Another notable sight is The Castle of Agios Nikolaos. This offers a view of the whole island, volcanic islands, and the Aegean Sea. If you arrive late in the day, you can enjoy the sunset from here as well.
Pyrgos Village
Pyrgos is the largest preserved village in Santorini. It's the former capital of Santorini and it's strategically built in the heart of at the foot of Mt. Profitis Ilias. There's a subdued, laid-back charm that's perfect for those who want to prioritize rest and relaxation. It can be found at the highest point of Santorini and costs around 4 EURO to get to Pyrgos from Fira. It boasts traditional architecture, neo-classical mansions, winding paths, and churches.
Visit Santo Winery for a wine tasting experience. It costs around PHP 3000 per person to experience the winery. You can choose from a flight of 12 or 6 wines with tapas while enjoying the sunset. It can get crowded at times but you can still purchase wine separately if you prefer to stay away from the tour. Relax in Pyrgos after a long day of activities and forget about your worries.
Key Takeaway
If you've been planning to live life the way you want, Santorini is the perfect place to start. The island is the perfect getaway located in the Aegean Sea that can leave you feeling recharged and rejuvenated. Forget about your problems and worries while you're in Santorini. No matter what your purpose is for visiting the island, you'll definitely find what you're looking for on this magical island.
For more information, visit http://www.bigskynation.com/products or contact us at info@bigskynation.com to avail of our products and services.