With the ever-evolving technologies that changes the way people travel and the rising demand of consumers for seamless connectivity, Big Sky, the number one travel solutions company in the Philippines and Grab, the leading super app in the Philippines and in Southeast Asia are thrilled to launch a partnership that will help their customers experience traveling like never before.  
The Big Sky and Grab Philippines launch was held in Manila Polo Club, 11:00 AM, last September 2, 2019. This collaboration aims to upgrade the travel experience that both companies provide to their customers.
It will help address the challenges and benefits that the current products in the market has to offer such as hassle-free process or last minute booking of a travel wi-fi device.
"In this day and age, convenience is the number one priority of customers. They are willing to pay for something easy and instantaneous. And with our [Big Sky and Grab] partnership, we will be able to address the travel solution needs that the market demands," said Big Sky President, Ramon Tambunting.
 In addition, Grab President, Brian Cu stated that with the increasing number of people traveling in Southeast Asia and the rest of the world, providing seamless connectivity will help consumers make the most of their travels.
"Our aim as the everyday super app is to empower people to do more by breaking limitations. Internet connectivity is one of the biggest challenges of Filipino travellers and we are happy to make this accessible and rewarding through our partnership with Big Sky," said Cu.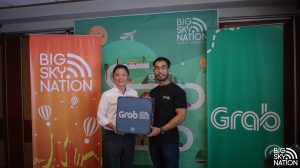 Ramon Tambunting (Big Sky President) and Brian Cu (Grab President)
This September,  Grab consumers can soon , get 25% off their travel wi-fi rentals from GrabRewards,  or pay using GrabPay when they book from Big Sky Nation website (www.https://bigskynation.com/). All Grab transactions will allow consumers to waive the Php 2000 deposit fee.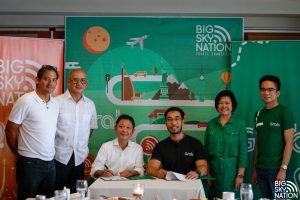 From left to right
Jose Salvador Novenario (Vice President, Skyroam South East Asia), Raymund Maclang (Big Sky Vice President for Sale and Marketing), Ralby Tambunting (Big Sky President), Brian Cu (Grab Philippines' President), Theresa Busmente (Grab Head of Business Development and Partnership), Rowell Santiago (Loyalty Marketing Manager)
Grab will officially launch Big Sky under the rewards section of their app on September 6, 2019.
With Big Sky and Grab elevating the meaning of being a digital enabler, this will help them assure better customer engagement and enhanced customer satisfaction.
About Big Sky and Grab
Big Sky is the number one travel solutions in the Philippines that aims to connect people worldwide by offering end-to-end travel solutions that are affordable, convenient, fast, shareable, and has worldwide coverage that allows its customers to stay connected wherever they are.
Grab is Southeast Asia's leading ride-hailing platform that offers the fastest booking service for taxis, private cars and motorbikes through one mobile.